There were no documents that contained
all
of the words in your query. These results contain
some
of the words.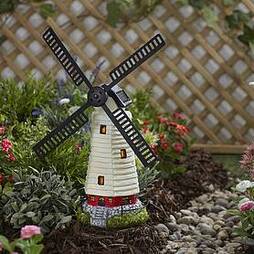 Give your garden an uplift with this solar windmill garden decoration. A perfect addition for borders, flowerbeds, patios or decking this windmill will add colour by day and has glowing lights by night. The light will turn on automatically at dusk after charging using… More Info
Buy Now
Just£19.99
…position over winter. In mild areas the Canary date palm may be grown in sheltered borders outdoors where it will tolerate temperatures down to -8'C (18'F). Height: 1.5m (5') when restricted in containers. If grown naturally in borders this palm can reach 5m (16')… More Info
Buy Now
Just£17.99
Parlour Palm (House Plant Seeds)
The graceful fronds of the Parlour Palm make this one of the most recognisable house plants! Popularised by the Victorians, it remains a firm favourite today. This elegant, slow growing palm boasts a stylish, architectural stature that complements almost any style of home. A… More Info
Buy Now
Just£2.99
Cladanthus arabicus 'Golden Crown'
An easy to grow annual, perfect as a filler, where the rich gold will weave through your border. The ferny foliage of Cladanthus Golden Crown gives rise to many golden discs, and each new stem radiates from the edge of the faded flower in a most unusual fashion. Prefers an ordinary, well… More Info
Buy Now
Just£1.59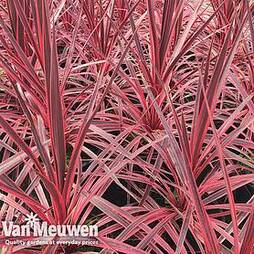 Cordyline ?Pink Star? is a firework of a plant with long, strap-like foliage that explodes from a central stem! Dazzling, pink and burgundy, variegated leaves arch stiffly upwards to create a spectacular architectural focal point. With maturity, plants may also send up panicles of small,… More Info
Buy Now
2 Options From£15.99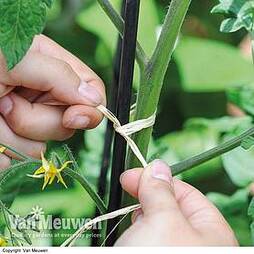 These raffia ties are a natural and environmentally alternative to plastic garden ties. Made from strips of raffia palm tree leaves, they are robust and will keep your plants in place. They can be used to tie tomato plants to canes, runner beans to obelisks and roses to trellis.… More Info
Buy Now
Just£2.49
…vermiculite and seaweed meal to provide the perfect conditions for your bulbs whilst also stimulating root growth, to promote longer flowering and heathier plants. Treats up to 50 bulbs. Use 5-10g for small bulbs or corms, 10-20g for large bulbs or tubers. (One palm full is… More Info
Buy Now
Just£7.99
…Dragon Tree) - Slender green leaves with a narrow red-purple edge. Enjoys a position in light shade. * Chamaedorea elegans (Parlour Palm) - A beautiful Palm with elegant light green foliage and a compact, slow growth habit. Prefers a bright position with a little sun… More Info
Buy Now
2 Options From£17.99
…keep the soil moist at all times (but never soggy). Reasonable humidity is required with regular feeding in spring and summer. Chamaedorea palm (Parlour Palm) Beautiful, attractive and delicate light green fronds, it is a slow grower. Low light will be tolerated, but… More Info
Buy Now
2 Options From£17.99
A mahonia without the spiny stems! This compact evergreen shrub won the RHS Chelsea Flower Show's 'Plant of the Year' in 2013. Flowering in the autumn with delicate spikes of yellow, honey-scented flowers, Mahonia 'Soft Caress' is a valuable plant for late season colour, and adds an exotic… More Info
Buy Now
4 Options From£9.99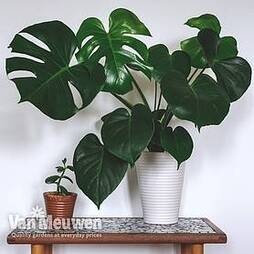 Monstera deliciosa (House Plant)
Monstera deliciosa is instantly recognisable for its lustrous, dark green, heart-shaped leaves with their characteristic splits. As the leaves grow the holes appear, creating a palm-like effect and giving it the common name of Swiss Cheese Plant. This climbing plant is best trained on to a… More Info
Buy Now
2 Options From£9.99
There were no documents that contained
all
of the words in your query. These results contain
some
of the words.