There were no documents that contained
all
of the words in your query. These results contain
some
of the words.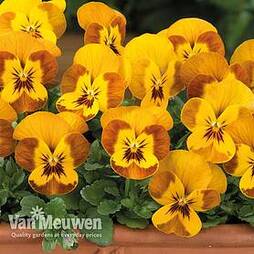 The rich, golden-brown shades of Viola 'Sorbet Honeybee' are the perfect way to brighten your beds, borders, baskets and window boxes this winter. Add a splash of sunshine to the garden with these reliable, free flowering F1 hybrids. Blooming from late winter, and continuing well… More Info
Buy Now
3 Options From£10.99
Viola 'Teardrops Mixed' (Pre-planted Hanging Basket)
…up and grown on for you - simply place where you?ll most enjoy the vibrant colour over the coming months. Hanging Basket diameter: 27cm (11in). Viola 'Teardrops' is an excellent mix providing cascades of colourful blooms to brighten up the winter months. Height: 15cm (6).… More Info
Buy Now
2 Options From£21.99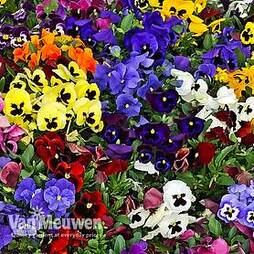 Pansy 'Universal Mixed' F1 Hybrid
A marvellous mix of colours and patterns; some in solid shades, while others have cheery faces. Pansy 'Universal Mixed' are so versatile you can plant them just about anywhere in the garden border, pots, baskets or window boxes. This long-lived perennial produces an exceptional range of… More Info
Buy Now
Just£32.49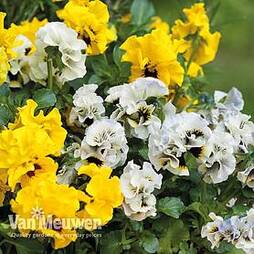 Sumptuous, frilly blooms with fully double, ruffled petals that are a world away from traditional Pansies! Pansy ?Orchi? is a showy mix of sunny yellow and coolest blue-white flowers that make the perfect partners. Despite their opulent appearance they are just as tough, weatherproof and… More Info
Buy Now
2 Options From£21.99
Pansy 'Clear Crystal Mixed' (Seeds)
Super reliable, with clear, pattern-free flowers, in a mix of bright colours. These will flower through winter or summer and are excellent for bedding or pots. Height: 15cm (6). Spread: 23cm (9). Culinary information: Some parts of these flowers are edible. The crystallised petals are… More Info
Buy Now
Just£0.79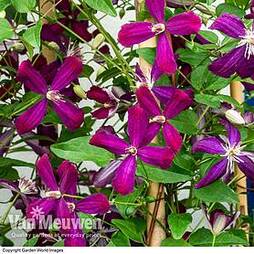 Clematis flammula 'Sweet Summer Love'
…sure to position this lovely clematis variety where you're able to enjoy its scent ? described as 'delicate, sweet; with elements of evening stock, viola, vanilla with a note of almond...'. Height: 300cm (118in). Spread: 100cm (39in). Pruning group 3. Supplied in 9cm pots.… More Info
Buy Now
3 Options From£14.99
There were no documents that contained
all
of the words in your query. These results contain
some
of the words.