There were no documents that contained
all
of the words in your query. These results contain
some
of the words.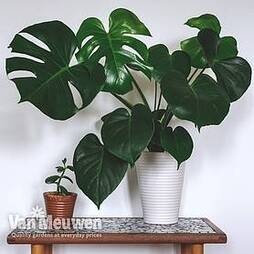 Monstera deliciosa (House Plant)
…heart-shaped leaves with their characteristic splits. As the leaves grow the holes appear, creating a palm-like effect and giving it the common name of Swiss Cheese Plant. This climbing plant is best trained on to a moss pole. It will produce aerial roots which will take… More Info
Buy Now
2 Options From£9.99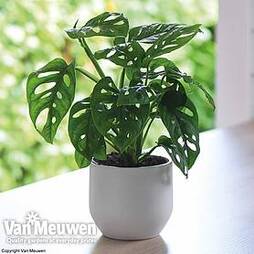 Monstera 'Monkey Leaf' (House Plant)
Monstera 'Monkey Leaf' is like a compact Monstera deliciosa, or more commonly known as a Swiss Cheese plant. It has the same heart shaped leaves, with irregular holes. A great choice for a modern interior, this houseplant will help create an exotic ambience in a room. Thrives in a… More Info
Buy Now
2 Options From£8.99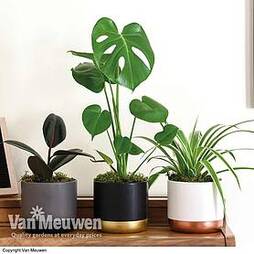 House Plant Urban Jungle Collection (House Plant)
The Urban Jungle Collection is an instant way to add an exotic ambience to your living space. It includes three different types of houseplants, that have been selected for their contrasting foliage and how easy they are to care for. * Urban Jungle Collection comprises 1 plant each of:*… More Info
Buy Now
Just£19.99
There were no documents that contained
all
of the words in your query. These results contain
some
of the words.