There were no documents that contained
all
of the words in your query. These results contain
some
of the words.
…variety in the mix will also perform perfectly in containers - set them in pots and surround yourself on the patio next summer. This collection contains the following varieties - Symphoricarpos albus, Spiraea billardii, Weigela rosea, Ribes odoratum (aureum), Forsythia… More Info
Buy Now
3 Options From£12.99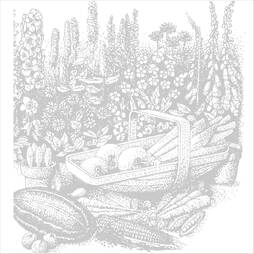 …which have a delicious sweet fragrance. Ribes odoratum is also known as the Buffalo Currant or Clove Currant due to its scent. Forming a medium sized shrub, the leaves turn to deep shades of red and purple in autumn for an extended season of interest. Ribes odoratum… More Info
Out of Stock
2 Options From£10.99
…suppressing ground cover as well as abundant blooms throughout summer. This collection comprises 1 each of Sanguineum, Sanguineum Album, Sanguineum Canon Miles, Himalayense, Sanguineum Max Frei and Sanguineum New Hampshire, plus 100g of geranium… More Info
Out of Stock
Just£14.99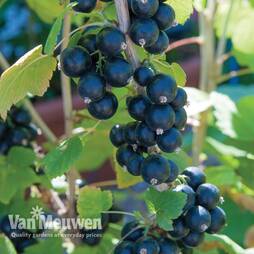 The blackcurrants that grow on the 'Big Ben' variety of blackcurrant bush are so huge they could easily be mistaken for blueberries. They are two or three times the size of standard blackcurrants! Once mature, a single bush can produce up to 4.5kg of fruit per year. The fruit grows on… More Info
Buy Now
Just£29.99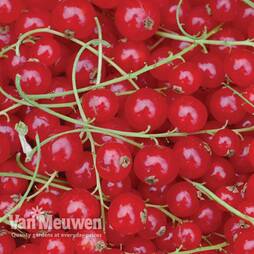 This redcurrant variety is a heavy cropper from mid July through August and one plant can produce up to 2'kg (6lb) of fruit in a season. The berries grow in long strings, that are easy to harvest. Redcurrants freeze well, and can be used in pies and jams 'Height and spread: 120cm (47).… More Info
Buy Now
2 Options From£14.99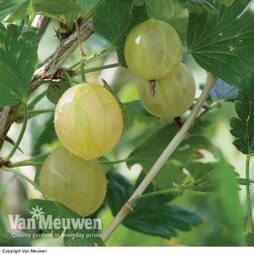 This gooseberry variety has won an award of garden merit from the RHS. It has good mildew resistance and produces a very heavy crop of fruit from May onwards. The smooth skinned gooseberries stay firm and retain their shape when cooked, making them excellent for making pies, crumble and… More Info
Buy Now
Just£14.99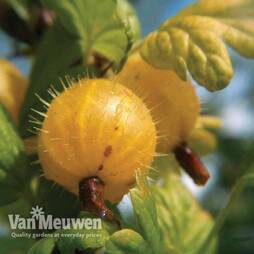 Gooseberry 'Hinnonmaki Yellow'
This variety of gooseberry produces a heavy crop of mid sized, greenish yellow berries, that have a subtle apricot-like flavour. They are ready to harvest from June to mid July and by the second season each bush can produce over 3kg (over 6lb) of fruit. 'Ideal for home cooking. Height and… More Info
Buy Now
Just£14.99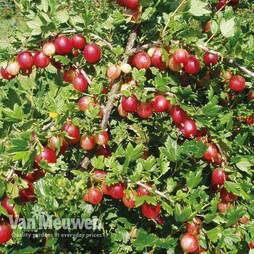 Gooseberry 'Xenia' is a red skinned variety of gooseberry, that looks great in pies, and crumbles. It has great mildew resistance and has almost thorn free stems, making harvesting the fruit safe and fast. The fruit is ready to be harvested at the end of June. Height and spread: 120cm (48)… More Info
Buy Now
Just£14.99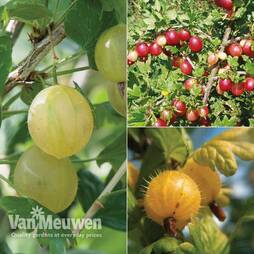 This gooseberry collection has three different varieties, which can provide plenty of fresh berries throughout the summer. Gooseberries are perfect for desserts such as crumbles, and can also be used to make jam. Our established 2 year old bareroot plants are supplied ready pruned.… More Info
Buy Now
3 Options From£24.99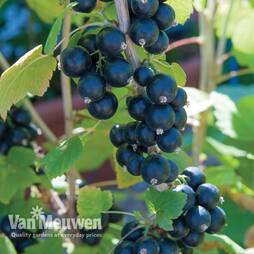 The largest blackcurrant we have ever seen - and with a lovely sweet flavour too. The large, glossy, strong-skinned fruits weigh on average 2.9g each, compared to a weight of 1.1g in standard varieties! Producing up to 4.5kg of fruit per plant at maturity, Blackcurrant 'Big Ben' is a high… More Info
Buy Now
Just£14.99
This outstanding dessert variety is the sweetest blackcurrant ever - so sweet that it can be eaten straight from the bush. 'Ebony' produces heavy crops of large, firm currants - up to twice the size of normal blackcurrants - which can be harvested from early to mid July. The plants are… More Info
Buy Now
2 Options From£10.99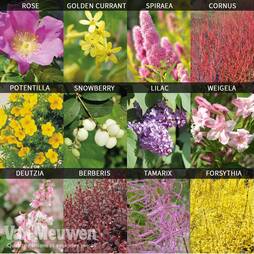 …to perennial displays and seasonal bedding. Each variety will also work well in containers on the patio. Collection comprises: ? Rosa rugosa ? Ribes odoratum ? Spiraea douglasii ? Cornus alba ? Potentilla fruiticosa ? Snowberry ? Lilac vulgaris ? Weigela rosea ? Deutzia… More Info
Buy Now
Just£12.00
…up to 60cm (24). * Perennial Wildlife Mix comprises: * Geum 'Mrs J. Bradshaw' - Flame-red, semi-double blooms on thin wiry stems.* Geranium sanguineum var. striatum - Pale pink blooms above attractive, lobed foliage.* Geranium psilostemon - Vibrant magenta blooms with a dark… More Info
Buy Now
2 Options From£12.99
There were no documents that contained
all
of the words in your query. These results contain
some
of the words.