There were no documents that contained
all
of the words in your query. These results contain
some
of the words.
Hellebore 'Winter Flowering Hybrid Mix Improved'
This mixture of species and hybrids boasts a range of flower and leaf types, even appearing through snow. Flower shades can vary from lime-green, through white, appleblossom pink, to dark maroon, either spotted, speckled or plain. Foliage is mid to dark green, leathery with different… More Info
Buy Now
Just£4.99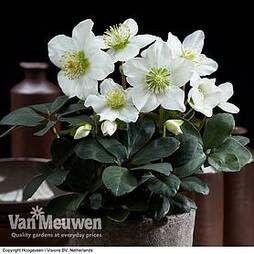 Helleborus niger 'Christmas Carol' is a superb plant to be enjoyed over the festive period. It flowers from December to mid spring. The glowing white flowers on this evergreen perennial appears year after year. 'Christmas Carol' is also perfect for pollinating insects. Height: 30cm … More Info
Buy Now
3 Options From£7.99
These beautiful hellebores have intriguing, patterns, flecks and ruffles and come in a wide range of colours including greens, blacks, yellows, apricots, reds and many other shades. The flowers appear in late winter and early spring to brighten up the garden, and the leathery, evergreen… More Info
Buy Now
2 Options From£12.99
There were no documents that contained
all
of the words in your query. These results contain
some
of the words.