There were no documents that contained
all
of the words in your query. These results contain
some
of the words.
Garlic 'Picardy Wight' (Spring Planting)
Garlic 'Picardy Wight' originates from Picardy in Northern France, and is suitable for spring or autumn planting. This softneck garlic variety produces pink-tinged white bulbs with a strong flavour and excellent storage potential. Height: 60cm (24). Spread: 15cm (6). Useful… More Info
Buy Now
Just£5.99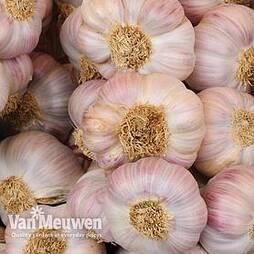 Garlic 'Carcassonne Wight' (Spring/Autumn Planting)
Although Garlic 'Carcassonne Wight' originates in the South of France, it is possibly the best hardneck garlic for overwintering in the UK. Vigorous plants produce pink cloves which are similar to Lautrec, but thought by some to have a superior bouquet and character. Height:… More Info
Buy Now
2 Options From£5.99
Elephant Garlic (Autumn or Spring Planting)
Elephant Garlic is really a stem leek rather than a true garlic but producing massive bulbs approximately 10cm (4) in diameter. The large cloves have a milder taste than conventional garlic, making it suitable for a wide choice of culinary uses. Try roasting elephant … More Info
Buy Now
2 Options From£5.99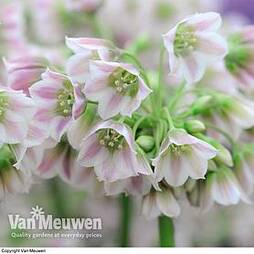 Nectaroscordum siculum is closely related to the allium family, with stiff, upright stems that add a strong vertical element to planting schemes. Intriguing umbrellas of waxy, bell shaped flowers top the tall, glaucous stems from May to June. Each delicate bloom is deep cream flushed with… More Info
Buy Now
3 Options From£7.99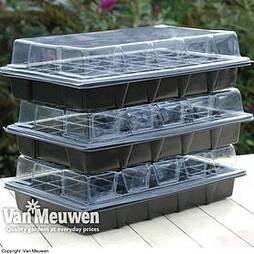 …fresh basil leaves make a delicious addition to salads and pasta dishes. Height: 45cm (18). Spread: 40cm (16).* 1 packet Coriander seeds* 1 packet Chive seeds* 1 pair of Garden Grow Five-Blade Scissors - save time and energy by using the five blade scissors from Garden Grow,… More Info
Buy Now
Just£16.99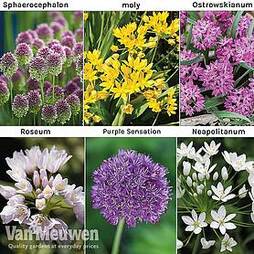 …purple flowers that measure up to 8cm (3) across. Height: 90cm (36). Spread: 10cm (4). Size 9/10 * Allium roseum (30 bulbs) - Also known as rosy garlic, produces narrow, grass like leaves, from which stems of loose , pale pink, cup shaped allium flowers appear. Height 60cm … More Info
Buy Now
Just£24.99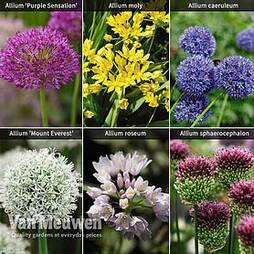 …for planting in drifts in flower beds or growing in large clumps in pots too. This allium collection comprises of: * Allium roseum: - the rosy garlic, with its pale pink, loosely formed flower heads growing above narrow, almost grass like leaves. Height 60cm (24). Spread:… More Info
Buy Now
2 Options From£14.99
There were no documents that contained
all
of the words in your query. These results contain
some
of the words.