There were no documents that contained
all
of the words in your query. These results contain
some
of the words.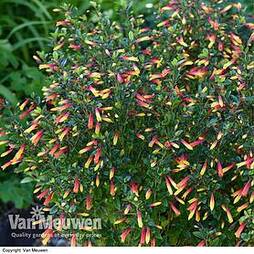 Bring an exotic feel to your patio this summer with this stunning evergreen shrub. Brazilian fuchsia produces a multitude of dangling, tubular blooms in two-tone shades of red and gold. This tropical beauty makes a superb feature for a patio container or conservatory. In very mild,… More Info
Buy Now
2 Options From£14.99
Truly sumptuous, these long lasting hardy fuchsias have full skirts of white petals topped with contrasting, elegant pink sepals. Perfectly proportioned for borders and patio containers where they will produce a profusion of flowers, year after year. Height and spread: 90cm (36).… More Info
Buy Now
Just£7.99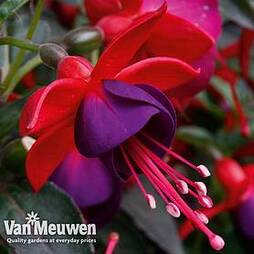 …variety bears a profusion of single purple blooms with contrasting red-pink sepals over a particularly long period. The ball shaped blooms of Fuchsia 'Jollies Nantes' appear throughout the summer and autumn seasons. A lovely compact specimen for a patio container or planted… More Info
Buy Now
2 Options From£16.99
Fuchsia 'Pink Marshmallow' (Giant)
…baskets and patio containers these fabulous fuchsias have no equal. Extravagant, large double blooms trail in abundance, covering your containers in a sea of fantastic colour all summer long. Unrivalled for durability and weather resistance, giant fuchsias are a must… More Info
Buy Now
Just£5.99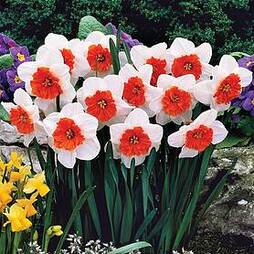 Rounded white petals surround a magnificent ruffled deep orange-red cup for a real contrast. The cheery blooms of Daffodil 'Bella Vista' face outward without drooping, making them ideal for adding to flower arrangements. This lovely narcissus is a real showstopper, and well worth… More Info
Buy Now
3 Options From£10.99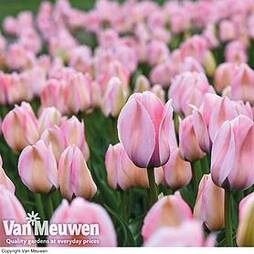 Shapely and elegant, Tulip ?Bella Blush? is undeniably beautiful. The large blooms of this Darwin-hybrid make superb cut flowers, and create an unforgettable display in spring beds and borders. With its pale colouring, this variety makes a stunning planting partner for dramatic… More Info
Buy Now
2 Options From£11.99
…Clematis Food is the perfect fertiliser feed for all your climbing plants - excellent for clematis, honeysuckles, hanging baskets, bedding plants, flowers, fruit, vegetables, dahlias, houseplants, gladioli, ornamental trees, begonias, fuchsias and geraniums. Useful links:… More Info
Buy Now
Just£9.99
There were no documents that contained
all
of the words in your query. These results contain
some
of the words.