There were no documents that contained
all
of the words in your query. These results contain
some
of the words.
Truly sumptuous, these long lasting hardy fuchsias have full skirts of white petals topped with contrasting, elegant pink sepals. Perfectly proportioned for borders and patio containers where they will produce a profusion of flowers, year after year. Height and spread: 90cm (36). Supplied… More Info
Buy Now
Just£7.99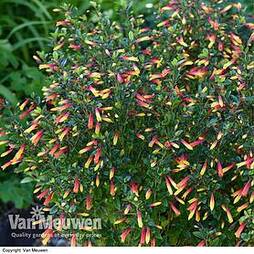 Bring an exotic feel to your patio this summer with this stunning evergreen shrub. Brazilian fuchsia produces a multitude of dangling, tubular blooms in two-tone shades of red and gold. This tropical beauty makes a superb feature for a patio container or conservatory. In very mild, frost… More Info
Buy Now
2 Options From£14.99
Fuchsia 'Pink Marshmallow' (Giant)
For hanging baskets and patio containers these fabulous fuchsias have no equal. Extravagant, large double blooms trail in abundance, covering your containers in a sea of fantastic colour all summer long. Unrivalled for durability and weather resistance, giant fuchsias are a must for your… More Info
Buy Now
Just£5.99
Fuchsias come in many styles but there are none better than Fuchsia Genii for catching the eye. The magenta red sepals curl back to reveal dainty petals in a shade of deep indigo blue. The contrast with the glowing golden leaves serves to highlight the blooms even more. Fuchsia Genii are… More Info
Buy Now
2 Options From£11.99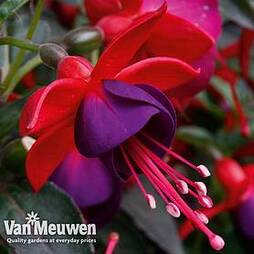 This compact bushy variety bears a profusion of single purple blooms with contrasting red-pink sepals over a particularly long period. The ball shaped blooms of Fuchsia 'Jollies Nantes' appear throughout the summer and autumn seasons. A lovely compact specimen for a patio container or… More Info
Buy Now
2 Options From£16.99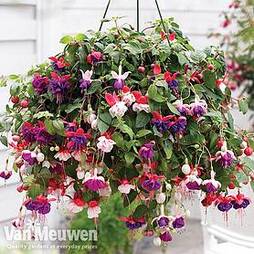 Fuchsia 'Trailing Mixed' Pre-planted Basket
For summer long colour with minimal effort, look no further than our amazing pre-planted fuchsia basket. Your pre-planted basket will include stunning trailing fuchsias chosen from our range of most popular varieties and that are guaranteed to give you a fabulous display this summer. A… More Info
Buy Now
13 Options From£14.99
All Chempak® Soluble Plant Foods and Fertilisers contain a range of specially formulated essential trace elements which are absolutely necessary for plant growth, providing the right nutrition at the right time. Chempak® Clematis Food is the perfect fertiliser feed for all your… More Info
Buy Now
Just£9.99
This clematis has large flowers of up to 13cm (5) diameter. The petals are soft pink with fuchsia pink around the edges. Clematis ?Asao' grows best in partial shade and can transform a boring wall or gloomy corner. This beautiful cultivar will produce two lots of flowers. The first flush… More Info
Buy Now
2 Options From£17.99
There were no documents that contained
all
of the words in your query. These results contain
some
of the words.