There were no documents that contained
all
of the words in your query. These results contain
some
of the words.
Just as beautiful as it's namesake, the Clematis 'Princess Diana' boasts eye catching magenta pink blooms that are very similar to the shape of tulips. The stunning pink shade is highlighted by the wispy creamy yellow stamens. Clematis 'Princess Diana' is a late flowering… More Info
Buy Now
2 Options From£22.99
A triumph in Daphne breeding, Daphne 'Perfume Princess' produces delicate pink flowers, nearly double the size of Daphne odora blooms, and with the same powerful fragrance. Although slow-growing, this compact shrub is worth the wait as the stems become clothed in flowers throughout… More Info
Buy Now
7 Options From£13.29
Nasturtium 'Princess of India'
A stunning dwarf selection of the ever popular Empress of India. Compact bushy plants have attractive small dark foliage and a mass of deep red flowers that sit neatly above the bronze foliage. Easy to grow, and will create a free-flowering summer display in borders or containers. Height:… More Info
Buy Now
Just£2.99
Plant breeders have managed to create a world-first pure white English marigold! Even more interesting is the seeming colour change of the flowers - petals have a yellow underside and show that colour while in bud. As the flowers open the white topside is revealed, surrounding a large… More Info
Buy Now
Just£2.99
Poppy 'Prinzessin Victoria Louise'
Oriental Poppies come in many shades but this apricot pink variety is one that is not to be missed. Although the blooms of Oriental Poppies are short lived ?Prinzessin Victoria Louise' does it in style with tall bristled stems contrasting with the delicate ruffled crepe paper-like petals… More Info
Buy Now
Just£9.99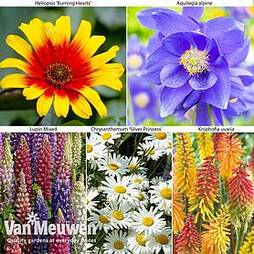 …purple blooms in early summer rise above an airy clump of ferny foliage. Height: 60cm (24?). Spread: 30cm (12?).* Chrysanthemum x superbum ?Silver Princess? ? A showy Shasta Daisy with large white blooms in late summer. Height: 40cm (16?). Spread: 50cm (20?). * Heliopsis … More Info
Buy Now
2 Options From£5.99
There were no documents that contained
all
of the words in your query. These results contain
some
of the words.