There were no documents that contained
all
of the words in your query. These results contain
some
of the words.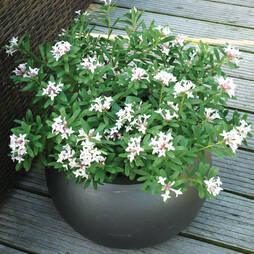 The tubular white star shaped flowers of Daphne 'Eternal Fragrance' are consistently produced on new growth, so they just keep coming! Compact, elegant and semi-evergreen this winner of the RHS Award of Garden Merit blooms continuously from April to October making it unbeatable as a… More Info
Buy Now
3 Options From£14.99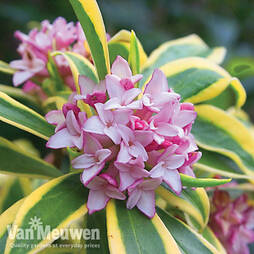 A result of the breeding of the extremely popular Daphne ?Aureomarginata? was this delightful sport that has been named Daphne ?Rebecca?. Whilst almost identical to its parent, 'Rebecca?s' evergreen foliage features a creamy-yellow variegation on the edges of the leaves… More Info
Buy Now
2 Options From£14.99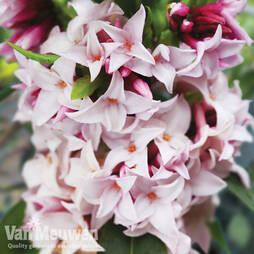 A triumph in Daphne breeding, Daphne 'Perfume Princess' produces delicate pink flowers, nearly double the size of Daphne odora blooms, and with the same powerful fragrance. Although slow-growing, this compact shrub is worth the wait as the stems become clothed in… More Info
Buy Now
3 Options From£35.99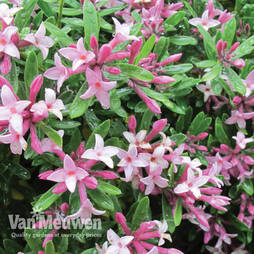 Daphne x transatlantica 'Pink Fragrance'
…long-flowering, semi-evergreen, highly fragrant shrub, you can't go wrong with Daphne 'Pink Fragrance'. Beautiful clusters of pink flowers bloom over an exceptionally long period from March right through to October. This lovely daphne variety will keep some foliage… More Info
Buy Now
2 Options From£23.99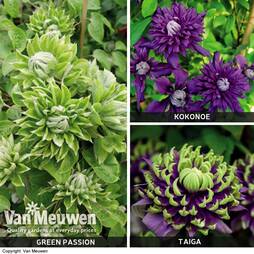 …Trio comprises three different cultivars that complement each other perfectly. Together they can transform a drab brick wall into a beautiful part of your garden. Alternatively, they can be planted in three obelisk planters and placed on a patio or decking space, to add some… More Info
Buy Now
Just£35.99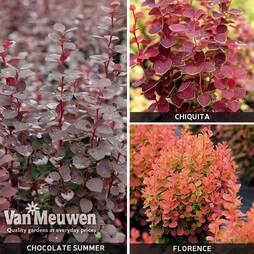 Add a splash of colour to mixed borders ? even where space is in short supply! This Berberis Trio creates a fabulous focal point, offering plenty of seasonal interest. With columnar, upright habits and vibrant pink-purple foliage, these hardy deciduous Barberry shrubs make a showy… More Info
Buy Now
2 Options From£24.99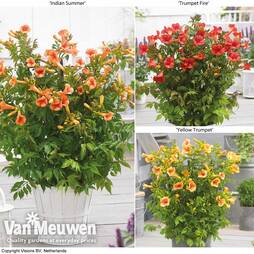 …summer to autumn. They are deciduous and store their energy for the following spring. Very easy to grow. Height and spread: 1.5m (5'). Campsis Trio comprises: * Campsis x tagliabuana 'Yellow Trumpet' - Showy rich golden-yellow trumpet-shaped flowers.* Campsis x tagliabuana … More Info
Buy Now
Just£59.99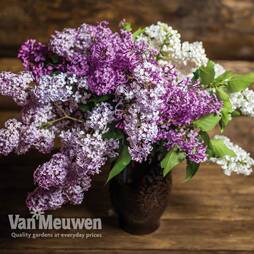 …specially selected as they are less commonly seen in UK gardens. They are a must have trio for sunny borders or as a specimen plant in the front garden. Lilac are sweetly perfumed and bare late spring blooms. Lilac Trio Collection comprises: * Syringa pubescens subsp.… More Info
Buy Now
2 Options From£12.99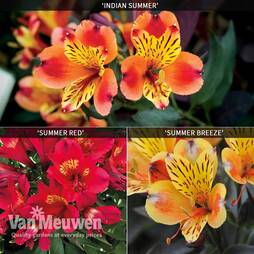 Alstroemeria Summer Trio is a great addition to an exotic planting scheme, as the three varieties of Alstroemeria, all have gorgeous, tropical looking flowers. They flower throughout the summer, and can be grown in planters, or garden borders. Some can also be grown in a cutting… More Info
Buy Now
Just£21.99
Mandevilla sanderi 'Bloom Bells®' Trio
Exotic, glowing blooms adorn these tropical evergreen climbers. Flowering throughout the summer, they make a wonderful addition to the patio where they add height and jewel-like colour. Mandevillas love a hot sunny position - ideal for the patio, greenhouse or conservatory. Grow them in… More Info
Buy Now
Just£21.99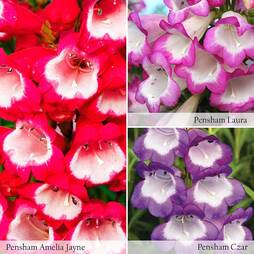 …perennials won?t let you down! Come rain or drought, slugs or snails, these hardy perennials will persist year after year. This eye-catching trio combines three well known varieties in a range of jewel-like colours. Height: 90cm (36). Spread: 45cm (18). Collection comprises… More Info
Buy Now
6 Options From£9.99
…their clusters of spring-time waxy, fragrant blossom and shiny evergreen foliage, citrus trees make perfect plants for patios and conservatories. Our trio of citrus trees are hardy down to -10 degrees and best grown outdoors from May to October, and brought inside for the… More Info
Buy Now
Just£22.99
Get your garden in the party spirit with this bright trio of Heathers! This three-in-one group are all potted in the same container to create an eye-popping mound of colourful blooms in late summer and autumn. Like many heathers, Calluna vulgaris 'Trio-Girls' enjoy an acid soil,… More Info
Buy Now
2 Options From£12.99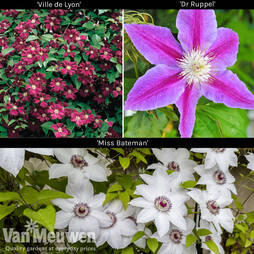 Large Flowered Clematis Collection
…Flowering profusely throughout the summer, they make a fine focal point when grown against a wall or cloaking a sturdy obelisk. * Clematis Trio comprises: * 1 x Clematis 'Miss Bateman' - Dazzling white flowers with a pale green stripe and contrasting red anthers bring a… More Info
Buy Now
5 Options From£17.99
There were no documents that contained
all
of the words in your query. These results contain
some
of the words.