There were no documents that contained
all
of the words in your query. These results contain
some
of the words.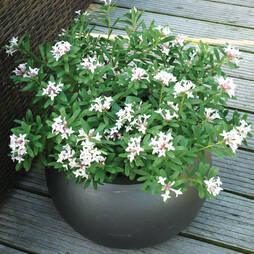 …shaped flowers of Daphne 'Eternal Fragrance' are consistently produced on new growth, so they just keep coming! Compact and elegant, this semi-evergreen blooms continuously from April to October making it unbeatable as a low maintenance flowering shrub. Famed for their… More Info
Buy Now
3 Options From£12.99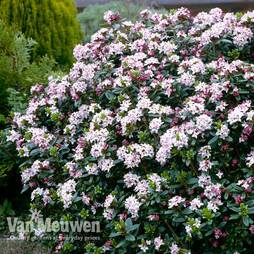 Daphne tangutica is a medium-sized evergreen shrub with clusters of purple buds crowding the tips of each branch, opening to reveal star-shaped, white flowers with a reddish purple flush on the outside. The collection of blooms produced in summer have a wonderful scent and are… More Info
Buy Now
2 Options From£19.99
…lasts well into spring. Its glossy, elongated, dark green foliage has an attractive pale yellow edging that brings plenty of summer interest too. Daphne odora 'Aureomarginata' has a pleasing rounded habit and requires virtually no maintenance. Height and spread 150cm (59).… More Info
Buy Now
2 Options From£9.99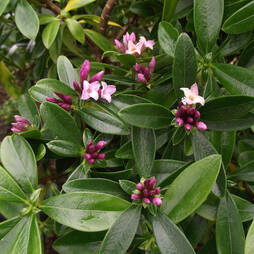 …and an amazing fragrance too, Daphne odora ?Sweet Amethyst? is small, compact and beautifully formed. The purple/pink buds open in early spring to show off the wonderful star shaped blooms that have such a sweet scent! Due to its siz and habit, this lovely daphne is… More Info
Buy Now
2 Options From£14.99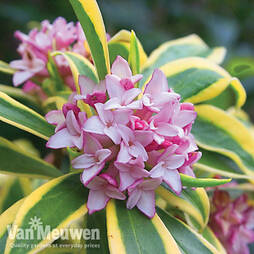 A result of the breeding of the extremely popular Daphne ?Aureomarginata? was this delightful sport that has been named Daphne ?Rebecca?. Whilst almost identical to its parent, 'Rebecca?s' evergreen foliage features a creamy-yellow variegation on the edges of the leaves… More Info
Buy Now
2 Options From£14.99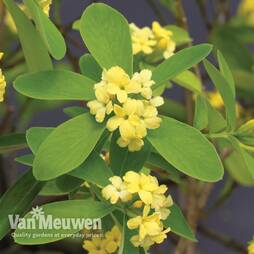 Add perfume and colour to your garden with this rare, yellow-flowered, deciduous daphne. Slow but steady growing, this is a bushy shrub with lush green foliage that is covered with pretty clusters of yellow flowers from late spring to summer. Bees and other insects love visiting the… More Info
Buy Now
2 Options From£14.99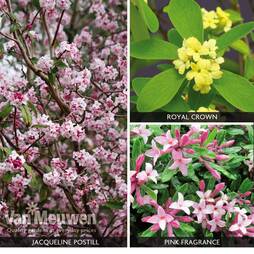 Highly fragrant daphne collection for long-lasting perfumed blooms in soft pinks and yellow. The collection comprises Daphnes 'Pink Fragrance', 'Royal Crown' and 'Jacqueline Postill' ? flowering in succession, they'll provide year-round colour in borders and large patio… More Info
Buy Now
Just£39.97
Daphne bholua 'Jacqueline Postill'
…prolong the interest of this popular evergreen shrub and provide a valuable food source for garden birds. Thriving in a sunny, sheltered position, Daphne 'Jacqueline Postill' is slow-growing, but well worth the wait when you see how fabulous this lovely shrub looks,… More Info
Buy Now
2 Options From£14.99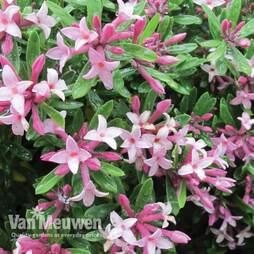 Daphne x transatlantica 'Pink Fragance'
…long-flowering, semi-evergreen, highly fragrant shrub, you can't go wrong with Daphne 'Pink Fragrance'. Beautiful clusters of pink flowers bloom over an exceptionally long period from March right through to October. This lovely daphne variety will keep some foliage… More Info
Buy Now
2 Options From£19.99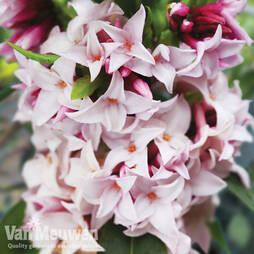 A triumph in Daphne breeding, Daphne 'Perfume Princess' produces delicate pink flowers, nearly double the size of Daphne odora blooms, and with the same powerful fragrance. Although slow-growing, this compact shrub is worth the wait as the stems become clothed in… More Info
Out of Stock
2 Options From£13.99
There were no documents that contained
all
of the words in your query. These results contain
some
of the words.