There were no documents that contained
all
of the words in your query. These results contain
some
of the words.
Almost certainly the purest and deepest colour in existence. Lush, rich, broad leaves, like velvet, lightly serrated and nearly black in colour. Superb mixed with summer patio container plants. More Info
Buy Now
Just£1.79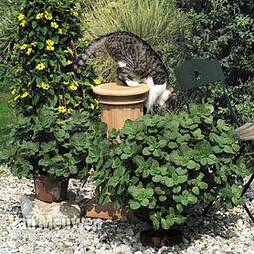 This easy to grow Coleus Canina keeps cats, dogs, rabbits and foxes away from your garden, also known as the ?Scaredy Cat? Plant. It produces an odour that cats in particular find offensive. It will be at its most effective when planted in a sunny spot, because the odour gets… More Info
Buy Now
2 Options From£9.99
A superior mixture and selection. Dwarfer, more base branching, without the need to 'pinch out'. Height: 30-45cm (12-18in). Useful Links: How to sow flower seeds Reasons to buy your seeds from Thompson & Morgan More Info
Buy Now
Just£1.99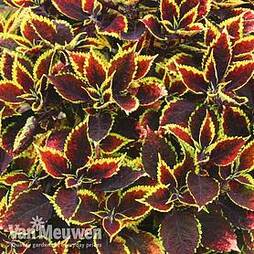 Coleus 'Walter Turner' are grown for their stunning colourful foliage that will add an exotic twist to your garden. A leafy tender perennial that is best grown as an annual to fill patio pots where the autumnal tones of mahogany and gold can be enjoyed. Easy to grow these will also… More Info
Buy Now
Just£9.99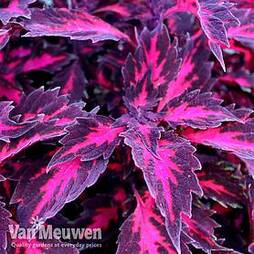 Coleus 'Stained Glassworks Royalty'
Coleus 'Stained Glassworks Royalty' is a unique plant with funky foliage. A tender perennial, each variegated leaf has a hot pink centre and dark plummy margin for a fantastic colour contrast. With a vigorous, bushy and rounded habit these will create an eye-catching focal point… More Info
Buy Now
Just£9.99
Coleus 'T&M Prize Strain Improved Mixed'
The sheer joy of this mixture is the wide and multiple colour range. It gives you so many different pot plants from one packet of seed and they couldn't be easier to grow. Superb house or greenhouse pot plant. Bedding plants for warm but shady positions. Height 45cm (18in). More Info
Buy Now
Just£2.99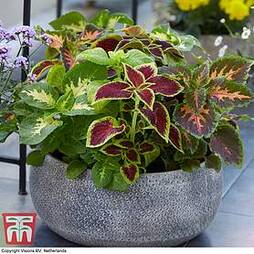 Painted Nettle (House Plant Seeds)
…they are perfect for cheering up a bright windowsill, or adding a lush, leafy feel to the conservatory. During the summer months they can even stand outside on the patio! Coleus are very easy to grow from seed, and make excellent filler plants for indoor displays. Height and… More Info
Buy Now
Just£1.99
There were no documents that contained
all
of the words in your query. These results contain
some
of the words.