There were no documents that contained
all
of the words in your query. These results contain
some
of the words.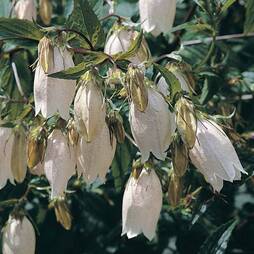 Campanula takesimana features arched stems of glossy foliage, topped with large pendant, bell-shaped flowers. The pink flushed flowers have a hidden surprise - lining each flower are deep maroon freckles. This Korean Bellflower is a hardy perennial, very fast growing; it will… More Info
Out of Stock
2 Options From£9.99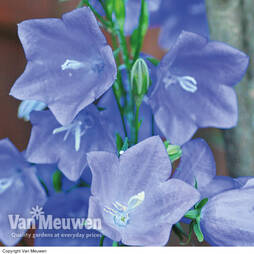 Campanula persicifolia 'Blue Bell'
Campanula persicifolia 'Blue Bell' is a charming upright perennial, producing a summer display of slender, stems adorned with outward facing, bell-shaped blooms in a rich shade of blue. Campanulas are a well-loved addition to cottage garden borders, forming an evergreen… More Info
Buy Now
Just£9.99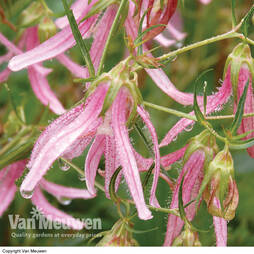 …Japanese lantern buds burst forth as extraordinary octopus-shaped, candy pink flowers that float en masse over deeply cut, light green foliage. Campanula 'Pink Octopus' produces up to 50 of these fascinating blooms on each upright branch giving two months of summer colour,… More Info
Out of Stock
2 Options From£13.99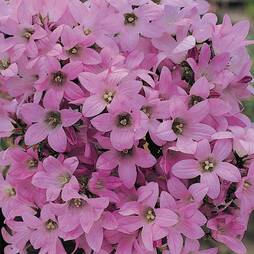 Campanula lactiflora 'Dwarf Pink'
With upright stems bearing masses of starry rose-pink flowers from May to August, Campanula lactifolia ?Dwarf Pink? is a perfect cottage garden plant. It thrives in sun or semi shade, although the delicate flowers keep their colour better in a partly shaded spot. Its nectar is loved… More Info
Out of Stock
2 Options From£7.99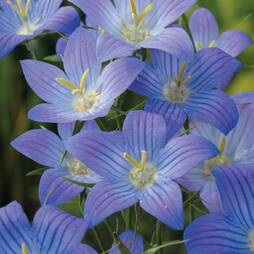 Campanula ramosissima 'Meteora' (Seeds)
Striking flower for the border or patio pots. Dwarf, bushy plants are packed with blue-lilac blooms with a white centre throughout summer. Ideal for sun or semi-shade locations. Height and spread: 25cm (10). Culinary information: The flowers can be used as garnishes but are also dried and… More Info
Buy Now
Just£0.99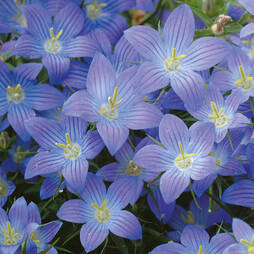 Campanula 'Dwarf Blue' (Garden Ready)
Suppress weeds with this pretty perennial Bellflower. Campanula 'Dwarf Blue' is suitable for sunny or semi shade positions and it's spreading ground cover habit will keep weeds at bay whist providing colour with the beautiful baby-blue flowers. Height: 20cm (8). Spread: 30cm (12).… More Info
Out of Stock
2 Options From£8.99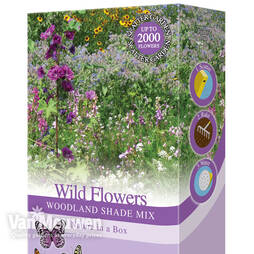 Wildflowers 'Woodland Shade Mix'
…begin to bloom. Height: up to 60cm (24). Spread: 20cm (8). This mix comprises of: Achillea millefolium, Aquilegia vulgaris, Borago officinalis, Campanula Medium, Centaurea Montana, Cheiranthus maritimus, Delphinium consolida, Digitalis purpurea, Geum chiloense, Hesperis… More Info
Buy Now
Just£5.99
Contains a mix of the varieties: Corn Cockle, Poppy, Cornflower, Gilia, Ragged Robin, English Marigold, Chrysanthemum, Linum, Daisy, Nigella, Cowslip, Campanula, Feverfew, Phacelia, Larkspur, Borage, Ribwort. Height: 120cm (48). Spread: 90cm (36). More Info
Buy Now
Just£0.79
Perennials 'Carpet Collection' (Garden Ready)
…of weeding with this selection of ground cover plants. Not only will our Perennial 'Carpet Collection' choke the weeds into submission they also provide colourful blooms and interesting foliage from May to September. * Collection comprises:* Arabis* Armeria* Aubrietia* Campanula… More Info
Out of Stock
2 Options From£8.99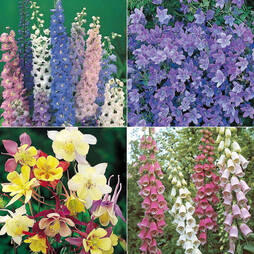 …bees and butterflies. Your collection will include six different varieties from our extensive range, which includes delphinium, digitalis, campanula, aquilegia, lychnis, verbena and lots more. Supplied in 1 litre pots. Please note: image is for illustration purposes only and… More Info
Buy Now
2 Options From£31.96
There were no documents that contained
all
of the words in your query. These results contain
some
of the words.