There were no documents that contained
all
of the words in your query. These results contain
some
of the words.
Get the best possible displays from your new begonias with our specially forumulated begonia fertiliser. Just one application feeds your plants for the whole season. Useful links: How to use fertilisers More Info
Buy Now
2 Options From£8.99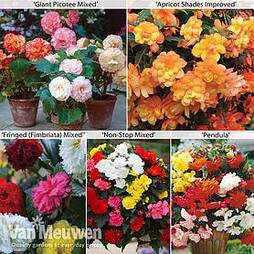 …containers. Begonia ? Non-stop? - Fully double flowers in a mixture of five vibrant colours contrast dramatically with the rich, chocolate coloured foliage. Begonia 'Non-Stop?, as the name suggests, is one of the best begonias for continuous summer flowering. … More Info
Buy Now
3 Options From£14.99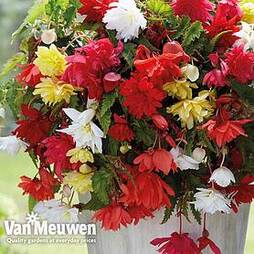 …containers with cascades of double blooms, where their pendulous habit can be best appreciated. For a colourful addition to your home, try growing begonia plants on a sunny windowsill indoors! Height and spread: 45cm (18). Standard tuber size 3/4cm. Useful links: How to… More Info
Buy Now
Just£9.99
Begonia x tuberhybrida 'Camelia'
Give your patio the ?wow? factor with this sumptuous Begonia. The fully double blooms of Begonia x tuberhybrida 'Camelia' are deep, rose-pink with a white picotee edge that really catches the eye. Like most tuberous Begonias, this variety is free flowering from July… More Info
Buy Now
3 Options From£6.99
White-yellow flowers with a distinctive crimson edge make Begonia ?Crispa Marginata? especially memorable. The crimped petals enclose contrasting golden stamens to create a particularly eyecatching display. This superb tuberous begonia will brighten up even the shadiest… More Info
Buy Now
2 Options From£6.99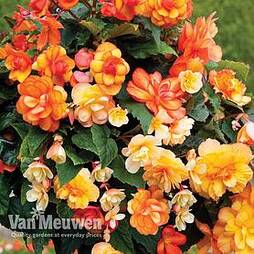 These stunning Begonias produce masses of frilly apricot, yellow and orange flowers which cascade gently on trailing stems from June to October. With superb weather resistance, Begonia 'Apricot Shades' makes an excellent addition to hanging baskets, patio containers and… More Info
Buy Now
3 Options From£5.99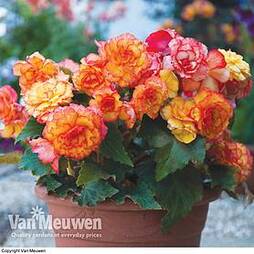 A blaze of large orange-yellow flowers, each edged with an ember red glow, cascade from the serrated foliage. Whatever the weather, Begonia Fireball will radiate colour all summer long, until its smouldering blooms are extinguished by the first frosts. Fantastic for window boxes,… More Info
Buy Now
3 Options From£11.99
Begonia 'Non Stop' is a very apt name for the remarkable flowering habit of this variety which can be relied upon to continue producing its bright, weather-resistant blooms throughout the summer and into early autumn. With little maintenance they will reward you with large, showy… More Info
Buy Now
4 Options From£4.99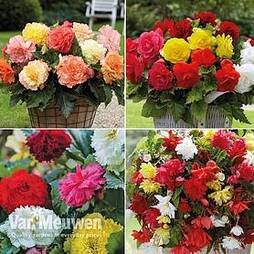 Begonia x tuberhybrida Bumper Pack
…of vibrant Begonias that are perfect for colourful garden borders, window boxes and hanging baskets. They are very easy to grow and are weather tolerant. Height and spread: 30cm (12).Collection comprises:Begonia ?Double Flowered Mixed' Begonia ?Fringed (Fimbriata)… More Info
Buy Now
Just£13.98
Begonia x tuberhybrida 'Giant Picotee Mixed'
Huge flowers up to 15cm (6) across add an exotic flavour to patio pots. The flamboyant blooms of Begonia Giant Picotee Mixed boast layers of elaborate, ruffled petals with a picotee edge. Supplied as a mixture of sumptuous bicolours, that looks simply spectacular set against lush… More Info
Buy Now
Just£9.99
Begonia semperflorens 'Sun Shade Mix' F2 Hybrid (Seeds)
Versatile summer annual, ideal in sun or part-shade. Perfect for summer bedding, borders and containers in a range of colourful flowers and green or bronze foliage. Height: 20cm (8). Spread: 25cm (10). More Info
Buy Now
Just£0.99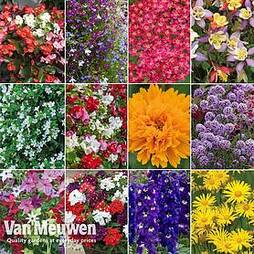 72 Annual & Perennials Collection
…longlasting display. Height: Up to 60cm (24?). Spread: Up to 45cm (18?). Your Annual Collection contains 6 each of: Begonia 'Organdy Mix', Lobellia 'Ultra Cascade', Bacopa 'Snowtopia', Begonia 'Lotto Mixed', Nicotiana 'Eau Du Cologne', Verbena 'Quartz Mixed'.Your… More Info
Buy Now
Just£11.99
…an attractive design so that it looks good even when not completely covered with your favourite flowers! You can plant up with Busy Lizzies, Begonias and Petunias for a stunning display in summer, while a winter display of Pansies is hard to beat. Easy to plant up and… More Info
Buy Now
2 Options From£5.99
…Clematis Food is the perfect fertiliser feed for all your climbing plants - excellent for clematis, honeysuckles, hanging baskets, bedding plants, flowers, fruit, vegetables, dahlias, houseplants, gladioli, ornamental trees, begonias, fuchsias and geraniums. Useful links:… More Info
Buy Now
Just£9.99
There were no documents that contained
all
of the words in your query. These results contain
some
of the words.